Prof. Piotr Ladyzynski – chairmen of the Industry Working Group (IWG) of the IFMBE was engaged in organization of the Summer School on Emerging Technologies to Support Health Care and Independent Living 2019 entitled "Challenges of the Digital Ecosystem in the Health Services for the Elderly" at the Pontificia University Javeriana, Bogota, Columbia, on 25-29 June, 2019.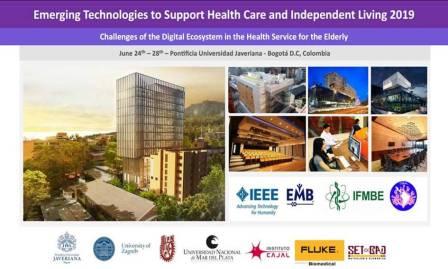 The aims of Summer school were to support to foster pro-innovative activities of young generation of MBE engineers, to identify and promote the best technology-transfer and commercialization models in BME and to teach young generation of biomedical engineer/students how to transfer an idea into a product.
Prof. P. Ładyżyński conducted a workshop on marketing strategies in promoting medical devices and services, delivered a lecture on "Diabetes Digital Ecosystem including VoiceDiab System". He also co-organized together with IBM Colombia a Hackathon for participants of the Summer School and he was a chairman of the jury of the Hackathon.